Six Questions More with Ben Brewis: Creator of The Hidden Sun Armchair Treasure Hunt
Many of us here at MW were first introduced to The Hidden Sun Armchair Treasure Hunt book a year ago during a Kickstarter Campaign.  All those who saw the project were greatly impressed by Ben's amazing artistic talent, and were excited to take up his challenge for the search for treasure.  Now the time is here!
Ben has published his book, available on Amazon in either Kindle or Print versions! Let's learn more!
Six Questions with Ben:
1Q) So many searchers are excited to hear The Hidden Sun: A Treasure Hunt book has been released. From the initial idea, to it's publishing, what has been the most enjoyable experience for you?
Thank you again Jenny for letting me share my hunt and the journey it took me on. There is so much that goes into creating a book like this; from the original concept all the way through to the branding and marketing, the amount of work just kept growing and growing.
The most enjoyable parts are when I could marry up a clue to a location with information I didn't have beforehand. A few times I stumbled on something I'd never considered that fits so well it's almost meant-to-be. That ends up making it more personal as if the answers presented themselves to me, so in a way I had to complete the hunt myself first. Now I'm very happy to share those experiences which is just as rewarding.
2Q) I've heard there have been a few changes over the year.  Now that it is finished, and all is set in stone, can you share with readers some of these changes and how to get involved?
There is relief at having it finished at last, but yes I had to refine some details of the hunt first. One was removing hand-drawn visual puzzles on the text pages, which once solved would uncover the same answer as solving the main illustrations and poetry, but based on locations that residents of the US would be familiar with. Feedback suggested this was too confusing and seemed like a separate book. It could have been a shortcut to the prize if solved much quicker. I wanted to keep the book lean and concise so that had to go unfortunately.
Another change is the arrangement of the 'Hidden Sun' ornamental prize which went through some different configurations.
Printing a 64 page hardback version was not cost effective so I opted for paperback to balance the book's size and final price. I didn't want to lose detail in the images at a smaller size. I'm very pleased with the paperback's quality.
3Q) The image of the prize is very reminiscent of the Treasure claimed in the 1979 armchair treasure hunt of Masquerade by Kit Williams. It seems the Golden Hare was an inspiration.  The Hidden Sun's prize is just as beautiful, if not more so.  What all does The Hidden Sun's treasure involve? What is its value? 
Thank you for the comparison! The Golden Hare is one of those objects you can become fascinated with, so it did inspire me but the craftsmanship of that legendary prize is so good. Over the past year I included a gold sun with a face that matches the symbol of Banbury where the hunt is set, with gold rings and bells that echo our famous nursery rhyme; Ride A Cock-Horse (to Banbury Cross). The silver leaves are handmade by a local artist Lucy Jade Sylvester – she takes real leaves and insects from the woods nearby and casts the most stunning jewelery. It also has polished quartz and Swarovski beads with a silver Celtic styled horse holding it all together.
I wanted to reflect the Celtic and Druidic myths and legends of the area. There's a deep mythology that runs through the UK all based on nature, the landscape and stories passed down the ages. I hope the prize echoes some of that. The gold coin from the Royal Mint shows our patron saint St. George.
All the prizes together; the ornament, a solid gold coin, an artwork of the ancient Rollright Stones and a decorated hare statuette, come in at around £2,000 / $2,460 if you factor in all the time and costs I've spent on it. For me it's not about resale value, I'd love the winner to treasure it for what it means to them.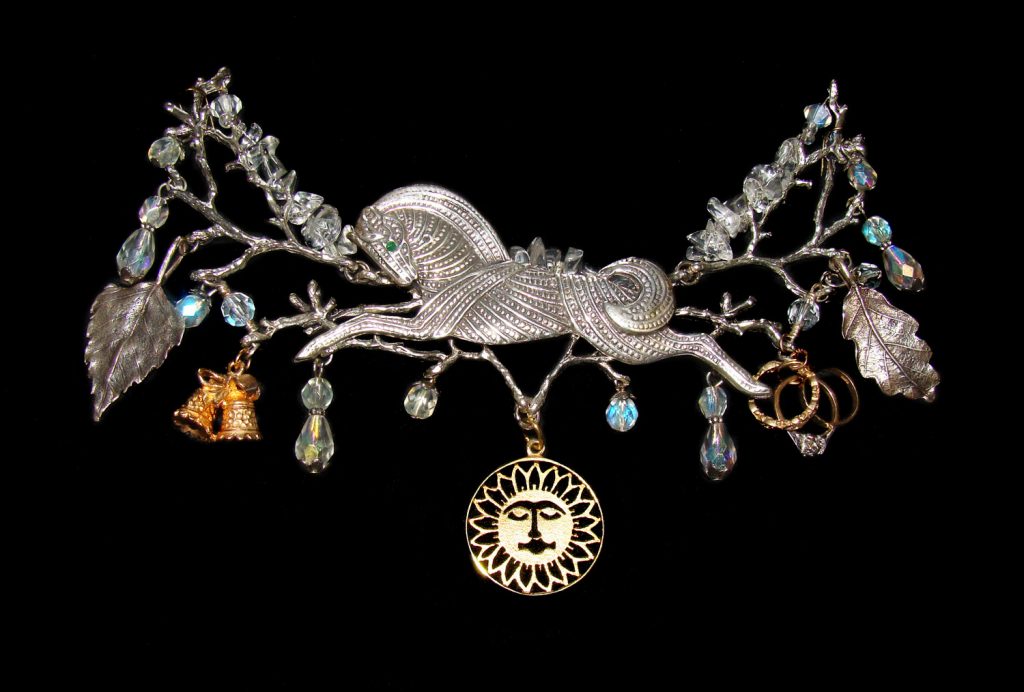 4Q) It's mentioned on your website that visiting locations of the hunt, which are in the UK, might be helpful to searchers.  Do you feel the clues and hunt can still be solved by someone unable to physically travel to these spots?  Will searchers of the USA be at any disadvantage?
The hunt is based in our area of the UK, but I made sure I formed the clues from home using research and maps that are widely available. That way I know that anyone can discover them too, with varying degrees of difficulty across the 24 clues.
As with any hunt that involves real locations, searchers are able to confirm their findings with 'boots on the ground' but I'd say that's true for The Secret, The Thrill of the Chase and possibly for Fandango and The Oracle. The original aim was to boost tourism to the area so I wanted to keep both online and BOTG options open. So in that regard there's a disadvantage for non-UK searchers, but you CAN solve it at home with online resources. Because of Covid-19 travel restrictions in the UK right now, no one can travel properly so everyone's in the same boat.
5Q) Can you walk us a little through the process of how to solve the hunt.  What do searchers need to do, and what do you estimate the time frame will be for receiving a solution?  Do you think the hunt will last months or years?  Do you plan on giving additional clues, if needed?
Searchers need to solve the clues to find 24 objects (or name of an object) that are hidden in plain sight in the real world; one for each poem + illustration combination. The first letter of each object will provide a 'location' when you have all 24. The location also hides a 'keyword' – you'll need to submit both to be successful. I can't say more than that.
It's hard to put a timeframe on when it'll be solved, possibly a year or two, but I plan on releasing the answers after three years. I work with graphic design deadlines so I figured a cut-off point will focus the mind of the readers. Sorry, you only have until April 2023! I'll decide on releasing extra clues further down the line, but will let everyone know as soon as I do. You can read about general updates at banburyshire.co.uk/thehiddensun – where you can sign up to a newsletter and get a free stand-alone mini-hunt pdf.
6Q) Just from the sneak peeks you've offered on your website, it is clear you've spent a lot of your time these last months working on, and completing this incredible project.  We, as searchers, are looking forward to enjoying the challenge of The Hidden Sun.  What are you looking forward to?  Are you working on other projects, or are you taking a break?
I'm really looking forward to seeing everyone's ideas on the answers. I'd love to create treasure hunts full-time if it was financially viable. I spent four years on and off in total with The Hidden Sun, so I'll be spending more time with the family and work commitments for now. I do have the seed of an idea for a global armchair hunt and its prize, but it would need funding first, ideally in partnership with a team that can take it around the world and provide a substantial prize.
I still work on existing hunts; The Oracle and The Thrill of The Chase in particular, and have an idea for a sci-fi novel set in the near-future. Being creative, I can never stay still for too long!
You can read more details on the book here; https://banburyshire.co.uk/thehiddensun
It can be purchased on both the US Amazon and UK Amazon sites.